We offered a list of cookbooks for the folks on your holiday gift list in Wednesday's food section.
However, it was such a good year for cookbooks that we couldn't contain ourselves to just the seven in Wednesday's gift guide. We offered a few more in Sunday's paper HERE and both Kathleen Purvis and myself decided to share a few more on our blogs.
Go HERE to see Kathleen's list and mine starts below.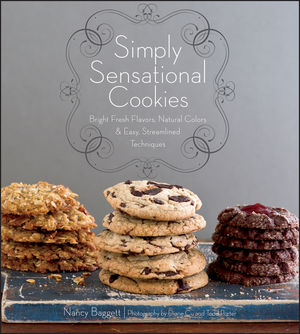 Since I'm a baker at heart, it's the baking books that most intrigue me as they come across my desk throughout the year. One of my favorites so far is "Simply Sensational Cookies: Bright, Fresh Flavors, Natural Colors & Easy Streamlined Techniques," by Nancy Baggett. She has a great "nutello" cookie recipe, which calls for the chocolate-hazelnut spread Nutella. I baked a batch for our neighborhood's block party and loved them. (Of course, I love Nutella.) Baggett rates each recipe on a spectrum of super easy to fairly difficult. Most fall in the easy camp. It's good to know what you are getting into before you are in above your head in the kitchen. I'm looking forward to trying out more of these recipes as we head into the holiday baking season.
I'm also intrigued by "The Liddabit Sweets Candy Cookbook: How to Make Truly Scrumptious Candy in Your Own Kitchen," by Liz Gutman and Jen King. There are so many recipes that I want to try: chocorrone, a play on Toblerone; sea salt caramels; beer and pretzel caramels; and if I get really ambitious, a twist bar, or a take on a Twix bar. I could spend months satisfying my sweet tooth by cooking out of this book.
And for the DIY cook in your life, you have two books to choose from for slightly different personalities. For the person who likes to make things for others, check out: "Edible DIY: Simple, Giftable Recipes to Savor and Share," by Lucy Baker. For the person who likes to learn how to make everything, including pancetta, kimchi, Greek-style yogurt and American cheese (who knew anyone would want to?), America's Test Kitchen has just published: "D.I.Y. Cookbook: Can It, Cure It, Churn It, Brew It."
The former is for someone who likes such trendy recipes as lemony sweet tea vodka, Thai-spiced potato chips and chocolate-covered bacon turtles. The latter is classic America's Test Kitchen with step-by-step instructions and detailed photographs. Best of all, either of these books will hopefully benefit not only the recipient but also the gift giver with delicious treats.
For the "locavores" in your life, consider supporting two local cookbook authors who came out with books this year. N&O food columnist Debbie Moose, who writes the monthly Sunday Dinner column, has the first of two books in the Savor the South series from UNC Press: "Buttermilk." (To read our story that ran earlier this year about the series, go HERE.)
And Chapel Hill cookbook author Jean Anderson has a new book, "From a Southern Oven: The Savories, The Sweets." You can read my story HERE about Anderson's latest book, which is a follow-up to her James Beard award-winning, "A Love Affair with Southern Cooking." The latter is my guidebook to Southern food.