Here's what happens when you mix NASCAR with higher education - a university professor drawing parallels between auto racing and medieval jousting.
Meet Karyn Rybacki of Northern Michigan University, who studies stock car racing as part of her gig as a professor of communications studies and public relations. 
She posits that NASCAR fans, who travel long distances to races, wear the same garb as the drivers, and are so crazy about their favorite racing personalities as to "knight" them, are essentially a modern-day equivalent of the folks in the middle ages who attended jousts.
"The more I dug into the history, the more I saw the parallels," Rybacki told the Wall Street Journal. "Instead of the horse, you have horsepower."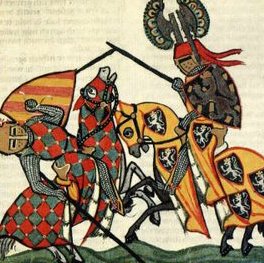 Wonder what a legend like the late Dale Earnhardt might think of all this? Well, Rybacki points out that one of Earnhardt's nicknames was "The Black Knight."
Hmm...coincidence?
Here's the story.