UNC President Emeritus William Friday is home from the hospital today, less than a week after he had heart surgery at UNC Hospitals.
"He's doing well; everything went great," said Virginia Taylor, Friday's special assistant."Now he just has to get his strength back."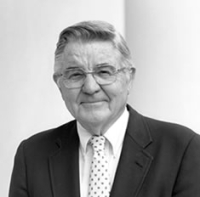 Friday had his aortic valve replaced. Surgeon Brett Sheridan did the operation.
Friday now faces at least six weeks of recovery. The surgery came just two months after Friday, 88, had a minor heart attack.
The heart attack prompted Friday to scale back his schedule. He will likely not do much public speaking anymore, Taylor said. But North Carolina People, the UNC-TV show he has taped for 35 years, is still in the front of his mind.
He'll resume those tapings as soon as he's strong enough, Taylor said.
Friday led the university for 30 years, from 1956 to 1986. In retirement, he has kept an office at UNC Chapel Hill and serves as a formal and informal sounding board and dispenser of wisdom for students, administrators and pretty much anyone else who calls on him.
It's a role he will likely never totally relinquish.
"He'll still be doing stuff in the office," Taylor said. "Just not as much."