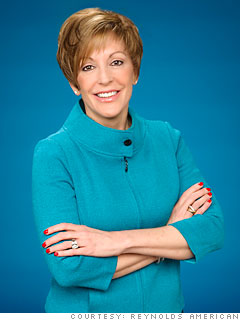 Susan Ivey, who announced last week that she plans to retire as Reynolds American's top executive, got leadership advice from her mother.
One message is that you have two ears and one mouth for a reason, Ivey told a group of Wake Forest University business students on Thursday, the Winston-Salem Journal reported.
"Great leaders listen, they learn and then they lead," Ivey said. "The common wisdom is that great leaders are great communicators. Most of them are, but the less-common wisdom is that 80 percent of good communicating is good listening."
It was one of Ivey's first public appearances since her announcement that she plans to retire as Reynolds' chairwoman on Oct. 31 and as CEO on Feb. 28.
Ivey, 51, has run Reynolds since 2004, and has expanded the Winston-Salem company beyond its core market of Camel, Natural American Spirit and other cigarettes into smokeless tobacco and even nicotine replacement products.
Fortune magazine last month ranked Ivey No. 22 on its annual list of the most powerful women in business.
In her speech at Wake Forest, Ivey emphasized that learning how to express gratitude and provide praise for colleagues and subordinates is crucial for a leader, the newspaper reported.
"One of the most powerful things that a leader can do is also something your mother taught you. It boils down to four words: 'Thank you' and 'Great job.'"
Read the full Winston-Salem Journal report here.