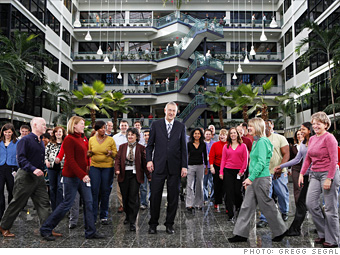 SAS has new bragging rights.
The Cary software company, which has been a fixture for years on Fortune magazine's annual list of the "100 Best Companies to Work for," was never No. 1. Until now.
Fortune's latest ranking out this morning puts SAS at the top, citing its "laundry list of benefits," including unlimited sick days, onsite medical care, free fitness center, library and more.
Also this morning, SAS announced that it generated $2.31 billion in revenue in 2009, up 2.2 percent from the year before. That marks the 34th year its revenue has increased, despite the recession and as competition increases.
The magazine also lauds "the architect of this culture," co-founder and CEO Jim Goodnight. And Fortune gushes about Goodnight's leadership helping foster loyalty, and "shockingly low turnover of 2 percent," by avoiding layoffs despite the economic downturn.
SAS, which last year was No. 20 on the Fortune list, strives to add new perks every year. Besides bragging rights, getting noticed by Fortune also can help companies recruit new talent.
"The ranking is important, but what's most important is the culture and making improvements every year," said SAS spokeswoman Allison Lane, before the latest list was released. "The ranking is just validity."
Still, she admits: "There's a lot of pride having been on the ranking since it began."
SAS displays past Fortune covers in frames outside one of the many breakrooms at its massive Cary campus.
SAS officials didn't get official word from Fortune on taking the top spot until this morning. But they had some hints: The magazine sent a reporter, photographer and videographer to Cary. SAS bosses have a big bash planned for this afternoon.
The company employs about 11,000 worldwide, including more than 4,200 in Cary. SAS sells software that helps businesses and government agencies analyze and mine vast amounts of data, to predict customer preferences and other trends.
The private company, which Goodnight helped start at N.C. State, doesn't release financial information besides its annual sales. Goodnight warned in October that SAS's streak of annual revenue growth wasn't a sure thing for 2009 because of the economic downturn. The company cut expenses including travel last year to offset weaker sales growth.
SAS, which fell as low as No. 48 on Fortune's list in 2007 (the company peaked at No. 2 in 2001), learned from the magazine's editors that it wasn't enough to tell about great perks, they wanted proof.
"We had employees give testimonials, and showed examples of the company being thoughtful and generous and caring for its people," Lane said.
The company recently has added several new "green" programs, including an Earth Day fair, where SAS invites outside vendors such as solar panel companies to its campus. And an "eco-advocates" program coordinates volunteers who collect recycling from breakrooms.
Last year's Fortune No. 1, NetApp, fell to No. 7 this year. The California-based tech company continues to expand its operations in Research Triangle Park.
Other employers with Triangle operations on the latest list include Cisco at No. 16, Novo Nordisk at No. 25, Kimley-Horn at No. 62.
Read the full list and descriptions of the companies here.
Fortune compiles its list with the Great Places to Work Institute, which conducted employee surveys of 343 companies. Any company that is at least seven years old with more than 1,000 U.S. employees is eligible. The deadline to apply for next year's list is April 2.