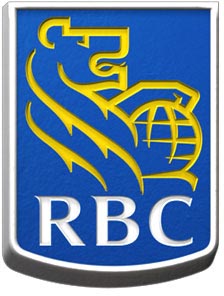 The Canadian parent corporation of Raleigh-based RBC Bank reported stronger quarterly profit this morning, and announced plans to boost its cash dividend to shareholders for the first time in nearly four years.
But the results from Royal Bank of Canada, that country's largest lender, were slightly weaker than analysts had expected, Bloomberg News reports. The stock fell in midday trading.
Royal Bank didn't include any updates on RBC Bank's future in the announcement about its second-quarter results this morning. Royal Bank has hired JPMorgan Chase to advise it on a possible sale of RBC Bank, according to recent published reports.
"Although I will not comment on speculation with respect to RBC Bank, we do remained focused on turning around these operations and we are making good progress," Royal Bank CEO Gordon Nixon said on a conference call. "We remain fully committed to the U.S. market and committed to generating strong returns."
RBC Bank, which has 430 branches in the Southeast, was hit hard by the real-estate slump and recession. Some investors and analysts are calling on Royal Bank to divest RBC Bank, which has been a drag on earnings. Interested buyers reportedly include BB&T and PNC Financial.
A sale of RBC Bank would hurt in the Triangle, where the bank employs about 500 people and has raised its profile in recent years by putting its name on Raleigh's sport arena and a downtown skyscraper.
Royal Bank has cut costs, including hundreds of jobs, and reshuffled management at its U.S. subsidiary. While it's still losing money, RBC Bank has shown financial improvement in recent quarters and CEO Jim Westlake has said he expects it to report a profit later this year.
"We're seeing a little more strength in the consumer side right now, which is a good sign," Westlake said on the conference call. "The business in commercial still remains fairly flat."
Westlake wasn't available for further comment.
For the three months ended March 31, RBC Bank lost $59 million, according to data filed with the Federal Deposit Insurance Corp. Those numbers don't cover the same time period as Royal Bank's fiscal quarters.
Royal Bank includes results for RBC Bank, which has struggled with losses since the recession hit, in its international banking business.
That division reported a net loss of $23.5 million during the quarter ended April 30, after converting from Canadian currency, an improvement from a $27.6 million loss a year earlier.
Overall for the latest quarter, Royal Bank reported net income of $1.54 billion, up about 13 percent from a year earlier. The increase was spurred largely by gains in its core Canadian banking business, wealth management and insurance.
Revenue rose 2 percent to $7.29 billion.
Royal Bank shares fell $1.56 today to $58.73. The shares are up 12 percent so far this year.