An experimental drug to treat lupus could clear an important regulatory hurdle next week.
The drug, known as Benlysta, would be the first new treatment for the autoimmune disease in more than 50 years. It also would provide a needed boost for its developers, Human Genome Sciences and GlaxoSmithKline.
A U.S. Food and Drug Administration panel is scheduled to recommend Tuesday whether Benlysta should be approved by the agency next month. The agency typically follows the recommendations of its panels, but not always.
This morning, in a preliminary review posted online, FDA staff raised some questions about Benlysta's effectiveness in certain patients, including African Americans. They also are worried that the drug's benefits appeared greater among patients in Latin America compared with those from the U.S. and Canada.
""The robustness and the clinical meaning of the efficacy findings warrant discussion," the FDA staff wrote.
The panel could decide additional clinical tests are needed or make another recommendation that could delay the drug. But analysts say that the drug is likely to be approved and expect annual sales to eventually exceed $2 billion.
The unmet medical need will likely outweigh any concerns, Christopher Raymond, an analyst with Robert W. Baird in Chicago, told Bloomberg News.
"The drug has a relatively benign safety profile" and the panel's review "ought to go smoothly," he said.
GSK officials would welcome positive news after a string of recent stumbles, including a $750 million settlement related to problems at a drug-manufacturing plant in Puerto Rico.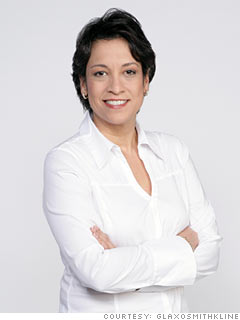 For Deirdre Connelly, the British company's top executive at its North American headquarters in Research Triangle Park, winning approval of the drug would be an important professional victory, but also a personal one. Her father suffered from lupus for 16 years and died from it in 1994.
"Patients that suffered from that disease will have a solution, that's very exciting to me," she said in a 2009 interview, shortly after she was recruited to GSK after spending 25 years with rival drug maker Eli Lilly.
GSK agreed in 2006 to work with Rockville, Md.-based Human Genome on Benlysta, sharing developing and marketing costs. The companies will split profits.
Human Genome's shares have been climbing on investor expectation for the drug, and the stock will likely tumble if the FDA blocks or delays it.
Today, the stock fell 8 percent to $24.29 after the FDA posted its preliminary review. GSK shares fell 33 cents to $39.42.
Lupus, which primarily strikes women of childbearing age, occurs when the body attacks itself, causing inflammation and tissue damage virtually anywhere in the body. The Lupus Foundation of America estimates that 1.5 million Americans have the disease, although Human Genome and GSK initially plan to target about 200,000 patients with moderate or severe forms of the disease.
"It is a beacon of hope," Sandra Raymond, president of the Lupus Foundation of America, told Dow Jones. "There hasn't been, in the history of the disease, a drug aimed specifically at lupus."
Traditionally, lupus patients are treated with steroids or other drugs that can have significant side effects.
In late-stage trials, Benlysta patients showed a greater response to the drug, compared with placebo. In August, the FDA granted the drug a prior review designation, a step the agency uses to accelerate its review of promising new treatments. The agency is expected to issue its decision on Dec. 9.
The FDA panel of physicians and other experts next week is expected to discuss the drug's complicated late-stage trials, along with the drug's safety profile, including the potential for an increased risk of infection and slight increase in some types of cancer. Most analysts believe the benefits of the drug will outweigh those concerns and result in strong warnings on the drug's label, as has occurred on most rheumatoid arthritis treatments.
Benlysta is an antibody that blocks the activity of a protein required for the development of certain B cells, part of the immune system, that produce antibodies thought to play a key role in lupus and some other autoimmune diseases.
Dow Jones Newswires and Bloomberg News contributed to this report.