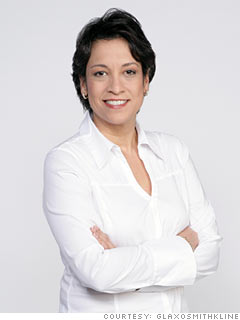 It was mostly business as usual for Deirdre Connelly today: back-to-back meetings at GlaxoSmithKline's North American headquarters in Research Triangle Park. But they were interspersed with some media interviews.
Fortune magazine this morning ranked Connelly as No. 27 on its annual list of the 50 Most Powerful Women in Business. That's up 10 spots from last year.
"I'm not going to let this go to my head," Connelly said in a short phone interview this afternoon. "I take the recognition very seriously, but it's also an opportunity to talk about the good things happening at GSK."
As president of North American pharmaceuticals for the British company, Connelly, 50, oversees GSK's Triangle operations and its 5,000 employees in Research Triangle Park and Zebulon. A native of Puerto Rico, Connelly joined GSK last year after spending 25 years with rival Eli Lilly.
Some edited highlights from today's interview:
On health-care reform:
"We are seeing a very fast-evolving marketplace. The health-care reform in the U.S. comes an an inflection to that evolution. We're working to make sure we continue serving our customers -- the patient, the provider and the insurer -- based on their needs."
As an example, Connelly mentioned GSK's plan to streamline how its drug sales representatives work, a move announced in July that could include pay cuts and some layoffs.
Physicians "need to figure out how to be more efficient. We can help with that. Before when we had 10 reps walking into one office, tomorrow we might have one rep walking into an office with 10 doctors."
On adapting to change:
"I like change and I take any opportunity to learn from it. Sometimes, change is painful. I had to lose weight once in my life and it was hard, dieting and working out. But it was a good change and it made me healthier. It's how we approach change that's important. We have to really think what a market change means to us, how we provide value and how we ensure the medicines we're making are of the highest quality."
On regulatory change:
"The FDA is requiring from all of us that we support our medicines with good evidence. We want to make sure we're bringing medicines that clearly bring additional benefits to patients."
On her schedule:
"I'm spending a lot of time in RTP, quite a bit of time in Philadelphia [where GSK has another large campus] and the balance of my time in London, where I have a third office."
Connelly still lives in the Philadelphia area and stays at the Umstead Hotel & Spa in Cary when she's working here. "It's a very nice hotel," she said.