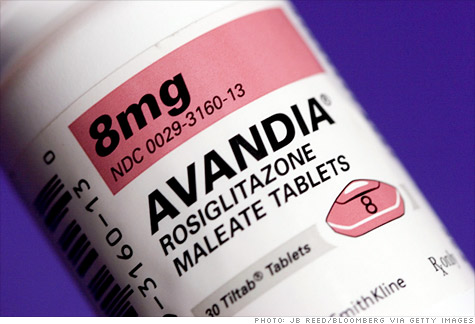 In two major healthcare rulings today, European medical authorities suspended GlaxoSmithKline's Avandia while U.S. regulators said they will require stricter safety warnings for the diabetes drug that's packaged in Wake County.
The European Medicines Agency said Avandia will be phased out in Europe over the next several months and patients will need to find alternative treatments.
In this country, the Food and Drug Administration will require additional safety labels and restrictions on Avandia's use. The FDA adopted the July recommendation of a federal advisory panel, whose 33 members were deeply divided on the issue of the drug's safety.
Health authorities in Europe and the United States cited concerns about the increased risk of heart attacks and stroke from using Avandia, once the world's leading diabetes medication that reaped $3 billion for London-based GSK in 2006.
The FDA said that current users of Avandia will be able to continue using the medication. Avandia will be available to new patients only if they are unable to achieve glucose control on other medications and are unable to take Actos, a competitor to Avandia made by a Japanese drug company.
The FDA expects the restrictions to dramatically limit the use of Avandia because doctors will have to document their patients' eligibility to use the drug and patients will have to review safety warnings.
About 600,000 people in this country take Avandia, the FDA said.
The pharmaceutical giant's North American headquarters are in Research Triangle Park and Avandia is packaged at GSK's factory in Zebulon.
GSK said it still believes in the drug's efficacy. "The company continues to believe that Avandia is an important treatment for patients with type 2 diabetes and is now working with the FDA and EMA to implement the required actions."
The effect of the regulatory rulings on GSK will be diminished by several years of bad publicity. Avandia's sales have been dropping since a 2007 article in the New England Journal of Medicine exposed heart-attack risks associated with the drug. Many doctors and patients have voluntarily switched to other treatments.